(As seen in the MarketingSherpa B2B Marketing newsletter. Click to get a free subscription to the latest research and case studies from MarketingSherpa.)
B2B marketers are a unique species. We're not like other marketers, are we? We have to learn to navigate very unique worlds.
For example, let's say you're a B2C marketer and you go to a dinner party. Someone asks what you do, and you tell them you're in marketing. They ask what you sell, and you tell them shoes. Easy breezy conversation. They think, "I wear shoes. I understand shoes. I've seen ads for shoes. This fits comfortably in my understanding of the world."
However, have you ever had that same conversation as a B2B marketer?
They ask, "Oh, what do you sell?"
You say, "I'm in the elevator industry."
"Oh, so you sell elevators?"
"No. You know the control panels in elevators?"
"Ah yes, so you sell elevator control panels?"
"No. Within those elevator control panels, there are motherboards with microprocessors."
"Oh. So, wait a minute, you sell computer parts for elevators?"
"No. Those microprocessors are run by industrial software. I sell a scalable end-to-end intelligent software for elevator control systems that securely optimizes elevator routes, timing and operation. In fact, we have the industry leading …"
At this point, the person you are talking to is nodding politely while trying to extricate themselves from the conversation and talk to the person on the other side of them. "So what do you do?"
"I'm an anesthesiologist."
"Ah, wonderful. I've had anesthesia before. I understand what you do!"
We share your passion for B2B marketing
It is tough to be a passionate B2B marketer and convey that passion to outsiders. Each B2B industry has its own language, its own celebrities and its own culture.
At MarketingSherpa, we get what it's like to be in B2B. And for the past 20 years, we've been publishing the information that can help you overcome challenges and improve results. Here are some of the most popular B2B articles we've published, based on total traffic.
How to Write a Competitive Analysis (with 3 free templates)
(May 18, 2012)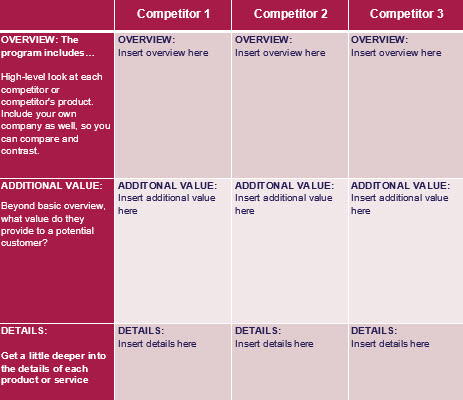 While most of the content I'm referencing in this article will be B2B specific, this blog post about competitive analysis has been so popular and is so helpful for B2B marketers, I've decided to include it.
Your company's value proposition, products and offers do not exist in a vacuum. Make sure you understand what your competitors have to offer to your customers.
And those competitors aren't always obvious. "Sometimes companies will focus too much on reviewing their traditional competitors and forget to frequently monitor search results to see if there are new competitors in the mix or potential new substitutes for your product or service," Ana Gabriela Paez explains in the blog post.
How to Market to Small-Medium Businesses — Follow These Five Lessons from Proven Campaigns
(March 4, 2009)
Firms with fewer than 500 workers accounted for 99.7 percent of all businesses in the US, according to the Census Bureau's most recent Annual Survey of Entrepreneurs from 2016.
In this article, John Jantsch and Arthur Gehring provide some evergreen tips for succeeding with the SMB segment.
How to Market to HR Professionals: Top 10 Dos & Don'ts + 4 Pain Points
(April 27, 2005)
While there are many tactics and principles that apply to most B2B marketing (and complex sales in general), each industry and each prospect type has its unique opportunities and challenges.
This article focuses on one specific prospect type, with advice from HR professionals. A few nuggets of wisdom …
"Spend more time as a consultant, not as a marketer. Learn to understand and respect the challenges of HR," said Robert Bogosian, Principal of HR consulting firm RVB & Associates and formerly VP of Performance Development at Wachovia/Evergreen Investments.
"Conferences are the places where people trade stories about suppliers and products — if you spend your time listening, you'll pick up a great deal of competitive knowledge," said Mark Willaman, CEO and Founder of HRMarketer.com.
"Before offering me a free report, spend some time reading SHRM (Society for Human Resource Management) newsletters and other industry publications. If you sound like you understand me, I'll be much more inclined to talk to you," Pat Tures, Panera Bread's Director of HR for Company Operations said.
"I receive a ton of information, most of which I throw away. However, if a piece of collateral offers me solid information, I'll keep it — and will call the vendor when I'm ready to purchase," said Evelyn Flaherty, formerly of Parametric Technology Corporation (PTC) and Lotus.
How to Prep Your Staff for Corporate Rebranding
(May 29, 2008)
"When people are skeptical or are naysayers, they can be one of your most valuable internal resources. They're going to tell you early on if there are any holes or any inconsistencies in your plan and point out vulnerabilities before you present the plan to a larger internal or external audience," said Francesca Karpel, Senior Manager, Internal Communications.
This case study explains how data management company NetApp rebranded from Network Appliance.
"Our CEO called it a zero-defect launch," said Elisa Steele, SVP, Corporate Marketing.
Market to Engineers: 5 Must-Know Strategies Plus 2 Surprises
(June 8, 2005)
Understanding customers on a human level is essential to marketing success. In another article focused on a specific B2B prospect, Dianna Huff interviews engineers to help B2B marketers understand how to better market to them. A few nuggets …
"In a way, they are reproducing on the Web the same frustrating process that has always existed with manufacturing reps and uninformed sales folks getting in the way of any real information being transmitted," Bill Unkel, co-CEO of MuNet said.
"The A-team or star players aren't out looking for jobs. Their companies are taking good care to ensure they don't leave by giving them good compensation packages that include stock options or year-end bonuses. At my last job, where I was Director of Engineering, I would post a job opening and receive hundreds of resumes — half of which were for people I would never consider hiring. Finding that one person with high-energy and a 'can-do' attitude is difficult," David Miller, Principal Software Engineer for Alase Technologies said.
"I have thirty people reporting in to me. I'm under pressure to deliver projects on time and to ensure our engineers have the resources necessary to do their job," Brian Renaud, Director of Engineering at Arbor Networks said.
"Part of my job is predicting the tasks within a given project and the time it will take to complete them. If the deadline on one task slips, the entire project timeline is affected," John Oskirko, Engineering Manager and CEO for Alase Technologies said.
How to Market to CFOs: Top 3 Pain Points, Copywriting Tips & Demographic Data
(April 13, 2005)
Here's another popular article that focused on a specific B2B customer prospect type — chief financial officers. Some insights from the articles …
"In my twenty-five years in this business, no one selling me products has yet talked to me about how to communicate finances to the people in the company," said Wick Sloane of ChangeToolKit.com and a CFO veteran, including stints at the University of Hawaii, Aetna, and other companies.
"CFOs are a discerning bunch. They are not impressed with flashy marketing material, hate clutter, and can't stand marketing language. Anything that gives them information, however, is going to capture their attention," Caroline Smith, Director of Marketing for CFO Magazine said.
"I often ask salespeople to send information so I can read it later. I would say 90% of the time, nothing comes," Natalie Alarcon, Controller for QAS, makers of QuickAddress software said.
Create a Software Demo Presentation That Wows Prospects: 5 Mistakes to Avoid
(March 21, 2006)
If you can get prospects far enough through the funnel, at some point many will want to see a demonstration of your company's software in some way, shape or form. But a demo is far more than just a technical piece, it is a crucial marketing material.
"Most demos take 20 minutes or 40 minutes or longer to get to the point," says Peter Cohan, Founder and Principal of The Second Derivative.
B2B Marketing 2015: Top case studies reveal how to use data to maximize marketing ROI
(December 16, 2015)
Five tactics, derived from case studies with fellow B2B marketers to help you improve results. Discover how to respond more precisely to customer pain points, make decisions based on both qualitative and quantitative data, infuse campaigns with fun, identify content gaps in the marketplace (and fill them), and orchestrate content to align with buying cycles.
New Research Data: How to Title Your White Papers to Generate More Downloads From Best Prospects
(October 06, 2005)
White papers, and similar content marketing like reports, templates or guides, are key lead generation opportunities for many B2B marketers. This article offers some evergreen ideas to increase the number of downloads you get by making simple tweaks to the headlines of your premium content.
Inbound Marketing: How a software company generated 190% more leads with a small budget
(June 13, 2012)
"I looked back and said there is no way that this business is actually going to survive if I don't do inbound," said Wendy McDougall, CEO, Firefish.
Inbound marketing can be an especially effective tactic for B2B companies, as this online recruitment software company discovered. After all, B2B companies tend to offer products that help people do their jobs and tend to be purchases that need to be justified to someone (a superior, a team, accounting, etc.)
For this reason, an inbound approach focused on helping customers, can build trust and understanding of products.
"The Internet is democratizing the marketplace for many industries. It's no longer about who has the biggest budget to spend on expensive advertising campaigns. Instead, potential clients are making decisions based on the quality and authenticity of information they are finding online," said Ailsa Partridge, Online Marketing Executive, Firefish.
And now for a bonus B2B marketing article, from one of the earliest mentions of B2B on MarketingSherpa …
ContentVille, Phillips, Wall Street Transcript
(February 15, 2000)
It's always fun to take a look back in the MarketingSherpa Library and see how things have changed, and how much has stayed the same.
This article contains one of the earliest mentions of B2B I found on MarketingSherpa. In the less impatient days at the turn of the century, business-to-business marketing wasn't shortened to only three characters using the numeral "2," instead it was abbreviated as "b-to-b."
It includes info on the launch of ContentVille.com by CBS and Bill Media Holdings, "a Web service devoted to selling all varieties of content, including magazines, e-books, traditional books, transcripts, original works, academic treatises, speeches and archives of magazine articles." There were contradictory statements if the site would contain b-to-b products or not.
There was also a job opening for a freelance copywriter. The candidate "must be prepared for quick project turnarounds and have the ability and experience to write for both a consumer and B-to-B audience." (So much has stayed the same.)
How to apply? "Please submit resume and samples to the email address or fax below." (And yet, so much has changed.)
Related Resources
Research-based Lead Gen Swipe File
MarketingSherpa Quick Guide to Inbound Marketing for B2B
Lead Generation and Inbound Marketing Reports Bundle